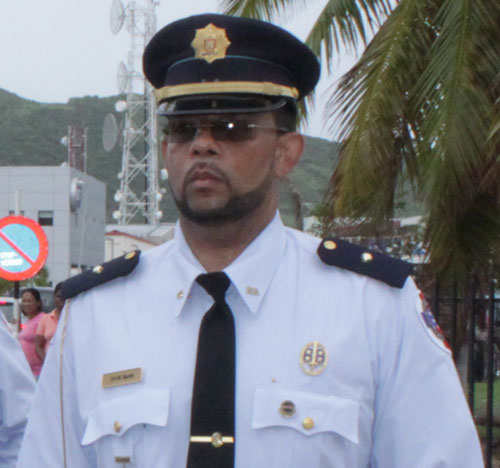 Acting Police Spokesman, Giovanni Sprott. (File Photo)
Philipsburg:--- Police arrested five Anguillians who robbed a set of tourists on the Boardwalk early New Year's morning. One of the main culprits identified as only as T.M. 22 years of age was shot in his leg by police when he drew an illegal firearm at them. Acting Police Spokesman Giovanni Sprott identified the Anguillian robbers as A.C., N.B., K.L., R.P.C., and T.M. who are between the ages of 18 to 24 years of age.
Sprott said around 5am on January 1st, 2012 some tourists reported to police that while they were in the Philipsburg area they were robbed by two unknown men on the Boardwalk and one of the robbers was brandishing a firearm. The Acting Police Spokesman said the bandits robbed the island's visitors of several personal items such as cellular phones, money, jewelry, cameras, and other items. Sprott said when the culprits finished robbing the tourists they fled the scene on foot and as soon as police learned of the incident they conducted an intense search of the Philipsburg area.
Sprott said with the help and information provided by members of the community, police managed to locate the main suspect who was hiding on the premises of Oranje School on Front Street.
The Acting Police Spokesman said police ordered the suspect to come out from his hiding place and surrender to police but instead the suspect T.M. chose to draw his firearm on the officers and the police officers were obligated to open fire on the suspect, shooting him in his left leg.
The suspect T.M. a native of Anguilla was still in the possession of the stolen items belonging to the tourists at the time of his arrest. Sprott said police has since confiscated the stolen items and the illegal firearm as the detectives continue their investigation.
As for T.M., the injured gunman was transported to the St. Maarten Medical Centre for treatment, he was later released and remains in police custody.
Sprott said further investigation led police to the other four suspects: A.C., N.B., K.L., and R.P.C. were later apprehended in their hotel rooms. Police also found several other stolen items on the suspects.
Currently, the Prosecutor's Office is busy investigating the shooting and robbery as they piece together the case.
SMN News learnt that detectives from Anguilla were on the island on Monday meeting with the detectives that are busy investigating the robbery and shooting involving the Anguillians.